Today was such a nice chance of pace! Whew! No meetings, just good ol' fashion girl time (at least for the 1st half of the day). We shopped... much needed retail therapy.. Lol.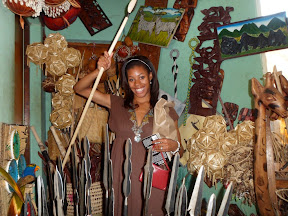 Next, we chilled at our favorite coffee shop... Bourbon Coffee. I seriously need the exact Bourbon Coffee that is here in Kigali to be recreated in Palo Alto! The beans are locally grown in Rwanda and are AMAZING!!!!!!! They say there is one in Washington, Dc but I haven't looked into that yet. I don't know how many caramel macchiatos I've had since I've been here but I can tell you it hasn't been enough. So delicious! I bought a bag of the Muhazi beans to bring home but something tells me I won't be able to recreate the same experience with my little french press... but I'll be doing my best to try. If all else fails, Griffin got a lesson in making a Café Mocha directly from a barista at Bourbon... she'll be getting a few phone calls.
After spending time on the patio, it was time to switch out of girly mode and play "sporty spice" for a bit. Mr. Augustin took us to a fûtbol match of Kiyovu vs the Rwandan police academy. It was fun. Still not sure who won though... the scoreboard was broken. Griffin and I were treated like mini celebs and got to do a couple media interviews about sports and her project. So cool. :-)
Now we're just leaving dinner, and I'll just say we had a sampling of some traditional Rwandan food. It requires a future post of it's own!
One day left in Rwanda. :-/
Ok... I'm writing this up as we are being driven back to our hotel and we just had a "moment"...
Quote of the day: Me: "I can only imagine" Richard: "Oh you SHOULD imagine!" Griffin: Uncomfortable laughter.
hahahaa. I think this is one of those moments where 'you had to be there'

~Bon nuit!
- Posted using BlogPress from my iPad
Pin It